Rick Bayardi is the NPC (National Physique Committee) Chairman for Ohio and West Virginia, as well as Vice Chairman in Kentucky and Maryland, and those states' Show Production Coordinator. In addition, he is currently back into show promotion, with Gary Udit and GMU Productions.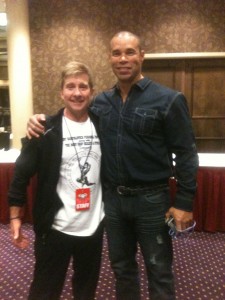 Rick is also the owner operator of The Body Shop Health & Fitness Gym in Yorkville, OH and a former competitive bodybuilder, winning the Jr. USA Bantamweight Division in 1989.
These days you can most often find Rick in his gym with one of his many personal training clients whose members include bodybuilders, fitness & figure competitors, sports athletes and other health conscious members such as the local Mayor and the local Fire Dept and Police Dept.
When not in the Body Shop he can usually be found officiating at such NPC events as The Arnold Amateur Classic, The Ohio Bodybuilding Championships, The Mid-Atlantic Grand Prix and all other OH & WV events. If not at an NPC show he may be officiating an IFBB Professional League show such as the North American Championships or expediting an IFBB Pro League event such as The Arnold Classic or The Mr. Olympia.
Rick is the founding member of one of the top expediting teams known as the A-Team. The A-Team is responsible for the smooth running of many of the top bodybuilding events mentioned above and their expert knowledge and teamwork has proven time and time again to make all of these shows run as smoothly and professionally as possible.
Rick brings nearly 25 years experience in pretty much every aspect of bodybuilding and fitness. Enjoy the website, and please contact him at this link